Whether it's that awkward transition period between summer and winter when the weather's behaviour is erratic, to say the least, or if it's so hot the mere thought of the sun makes your skin burn, a marquee could be the perfect venue for your function. A clever combatant for harsh weather conditions, a marquee is perfect for any type of function, including sports carnivals, weddings, and corporate events.
An All-weather Solution
When you hire a marquee, you can rest assured your guests will be comfortable come rain, hail or shine.
Beat the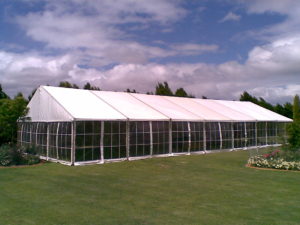 Heat
If it's a warm day, but not too hot, opt for a marquee with no sides to create an open-air feel. If it's quite warm and the sun is glaring down, a marquee is a sun smart option that will shield your guests from those harsh UV-rays.
Escape the Cold
A good quality marquee will shield your guests from the cold wind, rain and even hail. Even in dire conditions, you can rest assured that your event won't be overshadowed by a nasty storm.
Take Cover From the Rain
Marquees are water-proof, and with walls to suit your needs, give additional windbreaks; this means your guests can keep dry and warm even if you're throwing an outdoor event. If you're worried that the weather forecast on the day of your event might be grim, it's worth booking a larger marquee, so people won't have to trek back and forth through the rain to get to the amenities.
Essential Extras
Regardless of the season, a good host should always make sure their guests are kept warm when Jack Frost comes knocking, dry when it's wet out and c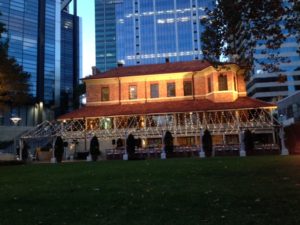 ool when the sun is beating down. It's also essential that your marquee is well lit, especially on an overcast day and at night.
Heating for your Marquee 
When the temperatures plummet, you can still stay warm and cozy in your marquee with heating. When you make your booking simply request heaters at the same time. If you haven't selected heaters as part of your booking and it gets closer to the day and the weather forecast isn't looking too good, simply call us up and add them to your booking.
Cooling for a Marquee 
Your marquee can also be equipped with cooling. Your marquee company can install fans, or supply a marquee that can have the sides concertinaed back to let in some fresh air.
Lighting for your Marquee 
At Spuds Marquee Hire here in Perth, lighting hire is just one of our many specialities. On an overcast day, energy-saving globes will keep your marquee well-lit, while chandeliers and fairy lights will add ambience.
Select a Clear Roof Marquee
A clear marq
uee roof is suitable for a range of functions, especially if you want to gaze upon the night sky at an evening event. Better suited to cooler weather or afternoon/evening functions a clear roof marquee will add a touch of flair to an art show and some finesse at a small food festival. If you don't need the shade a clear roof will allow you to soak up the views while being somewhere contained, weather-protected and warm.
Whether you're looking to a hire a corporate marquee, or just need someplace dry for officials to huddle at a sporting carnival, Spuds Marquee Hire is equipped to help, so contact us today!