Whether you're decorating for an elegant wedding or staging a backyard brawl, marquees can help enlarge your space and add value to any event. Spuds Marquee's are perfect for any event, offering protection and ambience and in a cost-efficient way.  Ensure that your guests have a great time! If you're planning a wedding, corporate or trade event, or just a birthday party, a Clear Marquee is the best choice. Get the best of both worlds – you can choose any size and location you like, and you have a blank canvas to create whatever atmosphere you want.  
Watch the Weather Instead of Trying to Avoid It
Using a clear marquee allows you to have both an indoor and outdoor setting simultaneously. Enjoy the warmth and comfort of a heated indoor environment as you dance under the stars or watch a magical sunset. With the Clear Marquee, you can combine the best features of indoor and outdoor events seamlessly.
You can experience the breathtaking Australian scenery comfortably indoors. The marquee can even be completely or partially opened. Outdoor events are growing in popularity due to the beautiful forests, coastal areas, and pastoral locations available in Perth. And because of the unpredictable nature of winter weather, our clear marquees allow you to preserve your venue's aesthetics and protect you from the elements. In other words, the rain and wind won't be able to stop the party!
The high quality and robust Clear Marquees from Spuds Marquee Hire can handle any weather conditions. It might reassure you that our clear marquees can withstand higher winds than most, making them an optimal option all year long. Anodised aluminium, galvanized steel, and a high-quality PVC cover provide the framework for our marquees that is low-wick, anti-fungicide, high-gloss, and flame retardant. A walled and roofed marquee can offer a cosy, comfortable and weather-proof event space if the weather takes a turn for the worse on the big day.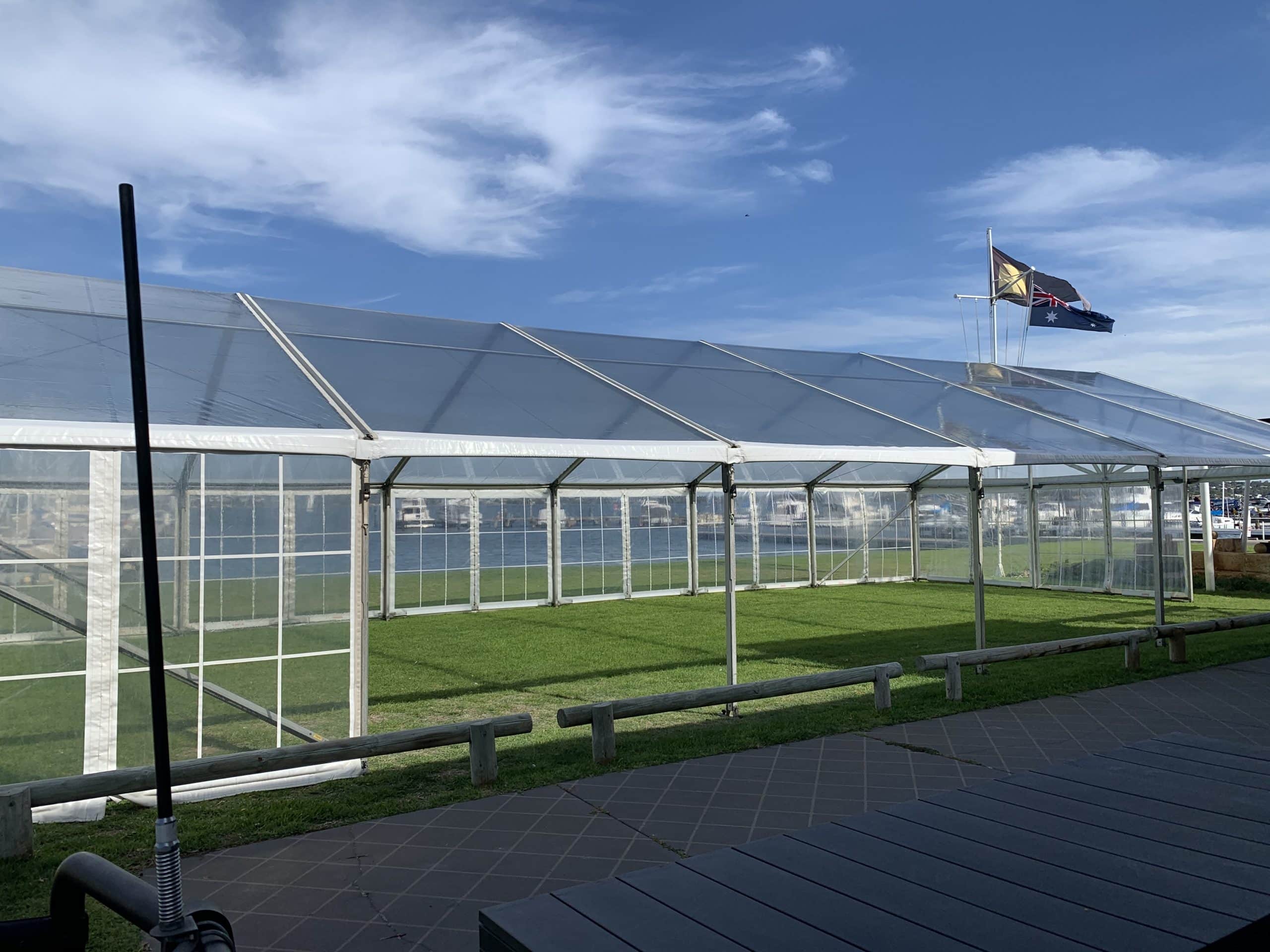 Unlimited Location and Size Options
If you are planning on holding your event on a beach, farm, rural or vineyard setting, or perhaps, at a seaside or coastal estate, a Clear marquee is sure to complement your surroundings perfectly.
Our team of professionals can assist you with all aspects of setting up our premium clear marquees on almost any level surface! From small backyards to courtyards or an extension to your home's alfresco area, our clear marquees let you maximise your use of space.
We also offer a wide range of customisable sizing options. Get panels in sizes such as 4m, 6m, 9m, 10m or you can opt to get a number of wall panels to create a marquee that's the exact size you need. 
Completely Customisable
When you create an event using a marquee you can have total control of the design and ambience of your space. It is a blank canvas that allows you to design your own style and imprint your distinct vision.
Our marquees have no central poles, creating an open and seamless enclosed space with no obstructions. Due to this, there will be no restrictions on how the interior can be styled and the guests are able to view any proceedings clearly during speeches, performances, or presentations at weddings, birthdays or corporate events.
Ultimately, a clear marquee from Spuds Marquee Hire is sure to wow all your guests no matter what the event is. Create a totally unique ambience under the stars and with no limitations from the weather. They are a must-have for your next party! Contact the experienced team at Spuds today for more information or to hire.