When putting on a corporate event there is usually a multitude of moving pieces that need to be organised, as well as different stakeholders that need to be impressed and taken care of. The venue you choose can have a huge impact on the value that guests, employees or other stakeholders will get out of your corporate event. Booking one of our Marquees from Spuds Marquee Hire can be the perfect solution for any location to use. Here are four reasons why using a marquee for corporate events will add a special touch and make you stand out from your competitors. 
Every event is different and how the day runs is usually unique. This means that not all venues and setups will work for every application. You may need to do product demonstrations or panel talks or you may be setting up buffets for a networking event. There is a multitude of different things you could do to enhance your corporate event so don't let yourself be limited by rules that venues dictate. Hire a marquee with Spuds Marquee Hire and kit out your function exactly how you want, giving your attendees a unique and unforgettable experience. 
One of the best parts about utilising a marquee for a corporate event is the unencumbered potential for branding that becomes available. You have complete control over the appearance of your event and any decorations used. This means there are countless opportunities to show off your brand and put your unique stamp on the event. 
You can display a lot more products than if you hired a venue, you could even display vehicles. Spuds Marquee Hire provides many different furnishings like lights, chairs and tables but you can go the extra mile and get things like this branded with your company logo – you may already have branded furnishings ready to go which you can implement. Plaster your logo over the walls or keep it sleek and clean. The possibilities are endless!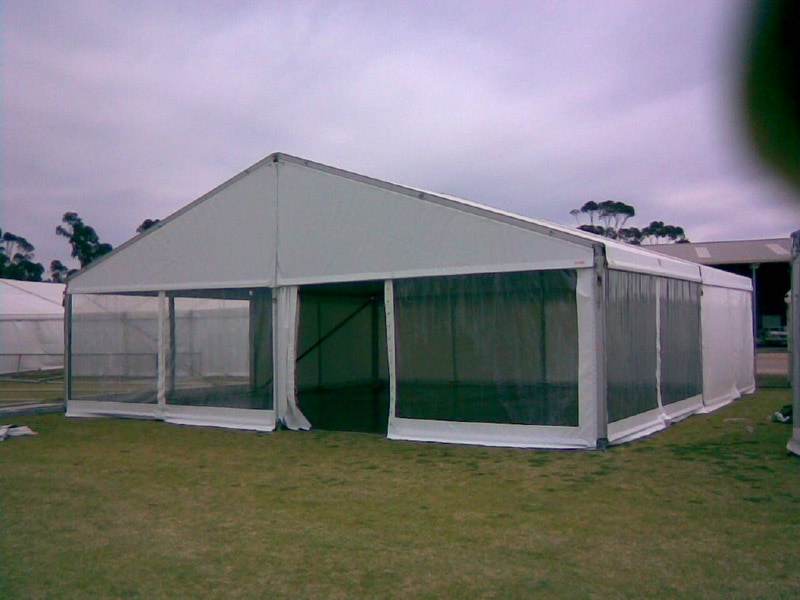 Booking out venues can end up costing a lot of money and be time restrictive. You can minimise how much you're spending by using a marquee. Using a marquee lets you circumvent all of the unnecessary and sometimes hidden fees that are typically involved with renting out a brick and mortar space. Hire costs are often tax-deductible as well. You can even save money on travel and transport for your guests as hiring a marquee means you can even set up the event in your backyard to suit your personal schedule.
Corporate events require a lot of planning and forethought so having them in outdoor spaces can be risky, especially during the winter months. Using a marquee for your event guarantees that the day can go off without a hitch no matter what the weather is like. Enjoy all the perks and ambience that an outdoor event can provide stress-free and guaranteed. Don't waste money and time postponing your event because of unforeseen weather or going through with it while your guests get rained on.
Corporate events take time to plan and money to set up and there are also important guests that need to be taken care of. Hiring venues can be stressful but a corporate marquee event can help. With Spuds Marquee Hire you won't need to waste money and time, you can completely customise your event to exactly your requirements, you can cover your event in your own branding and create a distinct vibe and you don't need to worry about the weather. For your next corporate event look no further and contact us at Spuds Marquee Hire today!