At Spuds Marquee Hire, we supply marquees for all types of functions, not just weddings. Whether you're hosting a corporate event, birthday or even planning a large-scale function, such as a festival or fundraiser, we've got a marquee to suit your needs. It's a common misconception that companies like ours specialise predominantly in weddings, but while our wedding marquees are popular among engaged couples, our repertoire certainly extends far beyond this.
There is a lot of demand in Perth for versatile marquees that will ensure the guests at any type of function are shielded from the sun and protected from the rain. It's also essential for the mar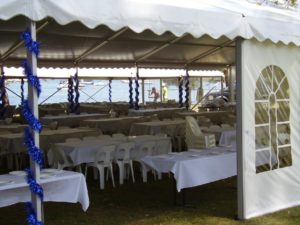 quee to be big enough for the size of your event, and aesthetically pleasing to ensure it's a functional and stylish addition to your set-up. Regardless of the occasion, a marquee could be just what you're looking for.
Corporate Events
If you're in charge of organising your company's next corporate event, why not impress your boss with a spacious marquee?
Our range of corporate marquees are designed to maximise floor coverage by eliminating the need to include supports in the covered area. This means you'll have more space for your furniture, and any speakers will have a clear view of their audience, and vice versa. By removing the need to include supports, marquees that are designed for corporate functions also have more floor space to fit it in your entire guest list.
With marquee sizes ranging from six metres to 12 metres, and flooring available in varying lengths and heights, you're bound to find a marquee that is suitable for both small and large functions.
Milestone Birthdays and Special Occasions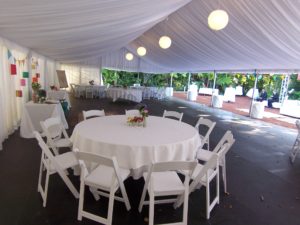 Whether it's a 60th wedding anniversary, a 21st birthday or an engagement party, your event can be easily enhanced with the help of our marquee hire company in Perth.
When you hire a marquee for your special occasion, you'll not only receive a cleverly designed marquee, you'll also be able to enhance the undercover space with a selection of optional extras. To add the finishing touches, and to create a romantic ambience at an engagement party, wedding, or anniversary celebration, it could be worth hiring a chandelier, fairy lights or even rice lanterns to hang from the roof of your marquee. A stylish section of décor and furniture can also be hired to complete your event's aesthetic.
Festivals, Pop Up Functions, Sporting Events and More!
A pop-up marquee is a quick and easy way to bring any pop-up function, festival or sporting event to life in a blink of an eye. Depending on the size of your event, our marquees ar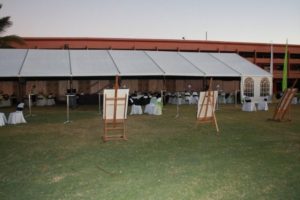 e designed to host 25 to 200 people standing up and ten to 120 seated. This means that regardless of if you need a small pop up marquee to host a sausage sizzle or a large one for a community market, we've got you covered!
No outdoor event is complete without a marquee. Regardless of the occasion, a spacious, well-decorated marquee will keep your guests protected come wind, rain or shine, and will ensure your celebration or corporate function goes off without a hitch.
To learn more about our comprehensive range of hire items available across Perth, contact us today!